Sail the Breathtaking San Blas Islands with Us!
Hi there!  We are, for a short period of time, offering the best (sailing) catamaran charters in San Blas.  The fully crewed and all-inclusive charters are onboard NOMAD. She's a very well equipped example of the world's most popular sailing catamaran (Lagoon 380).  And if you've never sailed onboard a catamaran – let's just say there is a world of difference.  Over a monohull, catamarans have speed, comfort, space, views,  and privacy – they are the ultimate sailing machine.
All of our charters include:
three healthy meals per day
snacks
drinks
some alcohol (including a welcome drink!)
beach bonfires
smiles and fun and games :)
In addition we provide a USB thumbdrive with all of the pictures and videos of your trip – so that you can show off to everyone at work.
Each charter is different and we can cater to just about any desire.  That said, we specialize in sailing, freediving, spearfishing, line fishing, and exploring the remote islands of San Blas in style.  We pride ourselves on our ability to sustainably harvest from the ocean while creating delicious meals for our guests.
In addition we love to introduce people to the Kuna culture – which are the indigenous people of San Blas and also the best preserved native culture in the Americas.  You can hike waterfalls, sail, swim, snorkel, float, dive, fish, explore, or just hang out under the shade and let the breeze cool you as we fill your glass with cocktails :)
We can accommodate up to 6 guests for shorter periods (3-4 days) and 4 guests for any time period.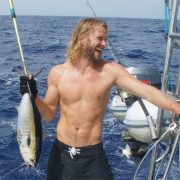 Nate Niehuus
Captain and Fish Whisperer
Howdy! I'm Nate and I'm mostly from Austin, Texas. I'm a reformed workaholic as well as the captain, an experienced sailor, a certified SCUBA diver, a certified freediver (Level II), an avid spearfisherman, a bluewater fisherman, and a lover of everything ocean-oriented. I've voyaged, motorcycled, and dove in many countries - especially in Latin-America.
My specialty is teaching people about the ocean and I take great pride in sustainably harvesting quality food from the ocean - taking it from the water to the plate.
The Nomad Trip
Marissa Barlow
Chef and Chief Entertaining Officer
Hi, I'm Marissa and I am entirely from Central Massachusetts. Before beginning my long-term travel I was in scientific research and event-planning. In short - I'm logical and love entertaining!
I will be your Chef and Chief Entertainment Officer, meaning you're going to eat really well and have a great time :) I love music, food, and make a mean cocktail.
Oh, and as part of your stay on NOMAD I'll take pictures and videos of your trip and we'll give it all to you on a USB when you leave :)
The Nomad Trip
"Nate is an expert spearfisherman, freediver, and line-fisherman.  His skills as captain put us in the right places for the right fish.  And his boat, NOMAD, has all of the equipment, gear, and upgrades to make any vacation a life-changing experience.  Just do it!"
"I had the possibility to learn a lot and also to see and explore beautiful places, snorkeling, spearfishing, meet truly wonderful people. 
It was interesting and enjoyable. This experience was nothing but amazing! :)
Nate is very easy to get along with and a very fun guy, with great vibes, really passionate about his boat and the life at the sea, his passion its contagious! He is truly a great person and I'm glad that our paths crossed."
"Being on NOMAD was the experience of a lifetime!  The best holiday I've ever had, and sailing and living on a catamaran is SO much better.  I can't recommend Nate and Marissa enough:  they are excellent hosts, cooks, and have a deep understanding of the area.  Nate took us to the most beautiful places I have ever seen and Marissa cooked the most delicious seafood meals I have ever had. 
If I had to give a tip I would say book the longest trip you can, you won't want to go back!"
"Staying on NOMAD was a huge pleasure every single day, for two weeks. Nate is a very experienced captain, as well as fisherman and good company. Marissa cooks well and has a huge variety of music and games prepared for those who still have energy left after diving/snorkeling/kayaking/surfing etc. We had fresh fish almost every day on board, as well as other foods, both vegetarian and not. Not only did I enjoy my time on Nomad with such a nice team as Marissa & Nate, I also learned a lot of useful things about living on the water.  Thanks for everything!!!!"