Sail the Breathtaking San Blas Islands!
Hi there!  We are, for a short period of time (really), offering the best sailing catamaran charters in San Blas.  The fully crewed and all-inclusive charters are onboard NOMAD. She's a very well equipped example of the world's most popular sailing catamaran (Lagoon 380).  And if you've never sailed onboard a catamaran – let's just say there is a world of difference.  Over a monohull, catamarans have speed, comfort, space, views,  and privacy – and they are the ultimate sailing machine.
Unless you request otherwise, all of our charters are private charters – if you book with us, the boat will be for you and yours.  Unlike other San Blas charters – we prefer to provide each guest/group exactly what they want, which is impossible in a shared-charter situation.
In addition to two private queen berths, we have a private twin berth and a fold-down couch (making the salon table into a queen).  There are two heads:  one is private, on the starboard side and the other is shared between the queen and twin berths on the port side.  Below is the layout of our 2000 Lagoon 380 owner's version (NOMAD).
All of our charters include:
three fresh, high-quality meals per day (we are serious foodies!)
alcohol in moderation (for us it is hard to get, but you can bring your own!)
beach bonfires, hammocks on your own private white-sand beaches
as much privacy as you desire or as much interaction as you would like
inshore (within the islands) fishing
guided snorkeling/freediving adventures along the path less traveled
explanation and education regarding proper handling and preparation of fresh seafood
our efforts photo/video documenting your trip, and a USB with your photos/videos
smiles and fun and games :)
Each charter is different and we can cater to just about any desire.  That said, we specialize in sailing, freediving/snorkeling, spearfishing, offshore fishing, and exploring the remote islands of San Blas in style.  We pride ourselves on our ability to sustainably harvest from the ocean while creating delicious meals for our guests.
Offshore Fishing
We are the only charter service in San Blas that can boast of such a high catch-rate, especially in the Caribbean.  We work hard to have the right tackle, know the right spots, monitor ocean conditions (surface temperature, currents, wave action, wind, moon cycles and chlorophyll).  We use this information to make it more likely that our guests get to experience the thrill of a screaming drag.  All fishing requires luck, but to be consistent as an offshore fisherman is a form of art.  We offer 1/2 day and full day offshore fishing trips – understandably these are somewhat weather-dependent.
Species include, but are not limited to:  Spanish Mackerel, King Mackerel, Cero Mackerel, Wahoo, many varieties of Grouper and Snapper, Tarpon, Barracuda, Yellowfin/Blackfin/Big Eye Tuna, most Shark species and multiple species of Billfish.  We also fish for Swordfish at night, which is very specialized – please inquire specifically if this is an interest of yours.
*Please note that offshore fishing requires more gear and fuel so there is a minimal surcharge to help offset these costs*
Freediving/Spearfishing/Snorkeling
Freediving/snorkeling and/or spearfishing in San Blas is a wonderful way to spend the day.  It's excellent exercise, it's always beautiful and each dive is different.  As a bonus, when we are successful, we get to eat some of the freshest seafood on the planet.  Taking quality seafood from the ocean to the plate is one of our specialties and something we love teaching people.  Whether it is fish, conch, crab, or lobster – we can usually find it and can always prepare it.
For the record:  it is your captain's passion to snorkel and freedive beautiful/untouched areas.  There is no one more knowledgable when it comes to the absolute best dive spots in San Blas, no matter if you are diving in search of large fish or the most alive reefs in the world.
A Truly Unique Culture
We also love to introduce people to the Kuna culture – which are the indigenous people of San Blas and also the best preserved native culture in the Americas.  We have healthy and mutually beneficial relationships with many Kuna families on multiple islands.  Specifically we enjoy introducing people to the more traditional tribes and families in the more remote islands.
We can accommodate up to 6 guests for shorter periods (3-4 days) and 4 guests for any time period.  For most charters we set a maximum at 10 days, but we make exceptions for people wanting to fish or dive more remote regions of Panama or Colombia.  If you would like to explore more remote regions, please let us know as early as possible.
Don't worry about getting to the boat, it's fun and easy.  Just fly into Panama City (Tocumen, usually), let us know your dates and enjoy your trip through the jungle and across the islands.  We arrange for you to be dropped off on NOMAD's back steps and to return to Panama City when you are ready :)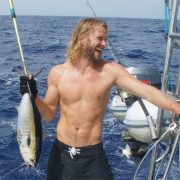 Nate Niehuus
Captain and Fish Whisperer
Howdy! I'm Nate and I'm mostly from Austin, Texas. I'm a reformed workaholic as well as the captain, an experienced sailor, a certified SCUBA diver, a certified freediver (Level II), an avid spearfisherman, a bluewater fisherman, and a lover of everything ocean-oriented. I've voyaged, motorcycled, and dove in many countries - especially in Latin-America.
My specialty is teaching people about the ocean and I take great pride in sustainably harvesting quality food from the ocean - taking it from the water to the plate.
The Nomad Trip
Marissa Barlow
Chef and Chief Entertaining Officer
Hi, I'm Marissa and I am entirely from Central Massachusetts. Before beginning my long-term travel I was in scientific research and event-planning. In short - I'm logical and love entertaining!
I will be your Chef and Chief Entertainment Officer, meaning you're going to eat really well and have a great time :) I love music, food, and make a mean cocktail.
Oh, and as part of your stay on NOMAD I'll take pictures and videos of your trip and we'll give it all to you on a USB when you leave :)
The Nomad Trip
"Nate is an expert spearfisherman, freediver, and line-fisherman.  His skills as captain put us in the right places for the right fish.  And his boat, NOMAD, has all of the equipment, gear, and upgrades to make any vacation a life-changing experience.  Just do it!"
"I had the possibility to learn a lot and also to see and explore beautiful places, snorkeling, spearfishing, meet truly wonderful people. 
It was interesting and enjoyable. This experience was nothing but amazing! :)
Nate is very easy to get along with and a very fun guy, with great vibes, really passionate about his boat and the life at the sea, his passion its contagious! He is truly a great person and I'm glad that our paths crossed."
"Being on NOMAD was the experience of a lifetime!  The best holiday I've ever had, and sailing and living on a catamaran is SO much better.  I can't recommend Nate and Marissa enough:  they are excellent hosts, cooks, and have a deep understanding of the area.  Nate took us to the most beautiful places I have ever seen and Marissa cooked the most delicious seafood meals I have ever had. 
If I had to give a tip I would say book the longest trip you can, you won't want to go back!"
"Staying on NOMAD was a huge pleasure every single day, for two weeks. Nate is a very experienced captain, as well as fisherman and good company. Marissa cooks well and has a huge variety of music and games prepared for those who still have energy left after diving/snorkeling/kayaking/surfing etc. We had fresh fish almost every day on board, as well as other foods, both vegetarian and not. Not only did I enjoy my time on Nomad with such a nice team as Marissa & Nate, I also learned a lot of useful things about living on the water.  Thanks for everything!!!!"