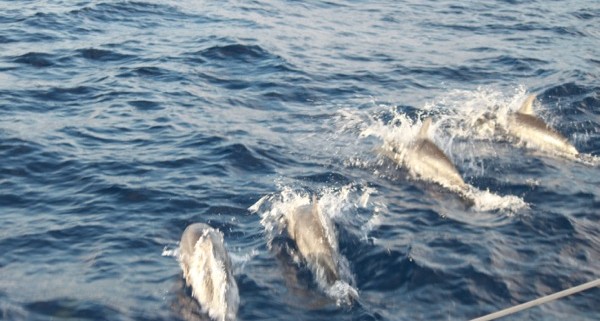 How about that time lapse between this post and my last? Been awhile, huh? Yep. I agree. We've been insanely busy. And there's been crap connection. And there's still crap connection. And we're sailing to Cuba, where there will been even less connectivity. So.
Hauling Out
I spent some time limping around San Blas with one engine and hanging out in the Swimming Pool. Then we sailed to Puerto Lindo. Then we arranged to haul out at Panamarina. There we pulled NOMAD out of the water. The first thing we saw was oil leaking out of the problematic saildrive. It was very clear what the problem had been (and continued to be): a screw had backed out of what I call the "endcap" of the saildrive. This, when we reversed, allowed the prop shaft (and all of its gears/seals) to separate from the saildrive housing. Of course, this was only obvious when we hauled the boat, and – in the water – would only be obvious if someone were watching the saildrive closely as the engine was shifted into reverse. This (being in the water as the engine is shifted into reverse, close enough to observe), I should add, would be a tricky proposition (see: dangerous).
Back to the story, which is my life.
To avoid using the German mechanic in this area, I'd looked far and wide to find a reputable mechanic capable of finishing this job. I found one. He agreed. But then when the time came to fix the saildrive, he balked and delayed. I half-expected this, but I had no backups. Thankfully Panamarina employed a Volvo Penta mechanic and he had time to work on the saildrives.
We pulled both of the saildrives and rebuilt the starboard saildrive with parts from my spare saildrive. Then we replaced the main rubber gaskets on the saildrives, all the seals, cleaned them, and put them both back in. That's easy to write, but much harder to accomplish. It's a f*$%#ing ordeal.
That also involved pulling off, cleaning, greasing and putting back on the MaxProps. Let me just say that MaxProps are a royal PITA to get right. It took a few tries and I burned more than a couple of days getting the pitch right. I even (though I hate to admit it) had to pull the boat back out of the water AFTER we splashed to make another minor pitch adjustment. I am intimately familiar with MaxProps.   And propellers have never been on my "I wish I was intimate with…" list.
Another hidden gem, when we cleaned off the saildrives: the previous owner had used the wrong bottom paint on the aluminum saildrives which was leading to corrosion. To that end I spent a day polishing all of the toxic bottom paint off of the saildrives, then had to find an epoxy primer and bottom paint compatible with aluminum. Not easy in these parts. But we did it.
There's so much more. We replaced all of our anchor chain. It was horribly rusted 3/8" chain, replaced with G4 5/16" which is both lighter and slightly cheaper than the 3/8" BBB – while retaining a higher breaking strength. This involved replacing the windlass gypsy, which involved cutting out several welded screws… That job was supposed to be couple of hours. It took two days.
Then I added 300W of solar to the hard-top and tied them into another MPPT controller. We now have 560 W of solar on the arch, 150 W on the lifelines, and 300 W on the hardtop. This makes for a grand total of (wait for it……) 1010 W of solar, tied to two different (see: redundant overkill) MPPT controllers. Even on cloudy days, we make energy. Lots of energy.
Next up was the watermaker. I sent the Clark Pump into Spectra for their $450 rebuild. Upon receiving it, they told me it was not serviceable. I needed an entirely new Clark Pump – to the tune of $2200. I received this during our haulout and wired it all in. It works!!!!!! Finally, after nearly two years of having the boat – I have a working watermaker. In fact, it's producing over 14 gallons per hour of freshwater. Amazing for a 12V system. No generators, no motors. Just a couple little pumps and we make saltwater into freshwater.
Out here – that's valuable.
Then there was the sails and sailcars. I had to replace two sailcars (specially manufactured from US Spars) – not cheap, but necessary. Then I needed to get my Genoa restitched. Not cheap either.
Then we pulled every single thing out of the boat, organized it, wrote down where it was, cleaned it, and put it back. Backbreaking and filthy work, but it's done.
Then the bottom paint. We raised the waterline just a bit, which required priming the bottom, and then adding several layers of bottom paint. For bottom paint, we chose Islands 44 and used the harder ablative on the leading edges and then covered it all with three coats of the soft ablative.
There's more.
We had to re-engineer the swim ladder. It wasn't standing up to the abuse (we dive a lot), so I had a welder build in another anchor point for it – and now, it doesn't budge. Since we had access to a decent welder – I welded some fishing pole holders and a piece of stainless that covers the saildrive seals – so that fishing line can no longer get into the seals and destroy them.
Ana was back onboard helping me, and I can honestly say there was no chance I'd have this done without her. An amazing person. We accomplished all of this in 10 days. TEN DAYS, in a third-world country, without a car. Where you have to travel (literally) across the country to get parts. It may not sound important to you, but it was nothing short of a miracle for us.
Back to The Swimming Pool
Then Damo showed up. He's been onboard before, he's a friend, a good cook, and a fisherman (mostly a spearfisherman). So, now, most of the major systems are working and we're sitting in the Swimming Pool – waiting on a weather window to sail to Cuba.
And with all of our solar energy – we're full of water and are powering a second freezer which is keeping all of the Tuna we've been catching fresh. So much sushi. You should be jealous.
The boatyard work was mindnumbing, painful, frustrating, dirty and it didn't make for happy people. But it's (for the most part) done. And NOMAD is in better shape than she's ever been before, with a good crew, in a beautiful place – waiting to sail to Cuba. In case you didn't catch this – we're SAILING TO CUBA. We're all excited about the passage (plenty of time to pull lures behind us and catch tasty fish) and about the destination. Cuba. Soon.
In the meantime we've been eating Hogfish, Snapper, Permit, Triggerfish, Tuna, and Mackerel – just about every way you can imagine it. And fresh. You can't afford to eat this way anywhere else in the world. And even if you could, it wouldn't be this fresh.
We have plenty of things that aren't working as they should and I know we're going to keep breaking things. There will be bad days and rough days. Weather with batter us and make us wait and make us angry. We will get hangovers and feel pressure and have crazy situations. There will be risks to our lives and health and everything in between. People won't always get along.
This is all given.
But for now all is well.
So we wait on weather with our friends from Sondre (Jacko, forgive me dude, for not knowing how to spell your boat name).
Just a couple more days and we'll be on passage and our larger concerns will be based around what lures to troll and how to bring in large fish at 6-10 knots.
Then it's a couple of months in the largely untouched paradise of Cuba. Where I've heard the Black Grouper and Hogfish swim up to you and beg you to put them on your boat.
If you're not at least a little bit jealous, you're wrong.
Nothing further.  Until we're 600 miles away, in Grand Cayman.
http://www.thenomadtrip.com/wp-content/uploads/2016/03/IMG_8081-e1492352844420.jpg
263
499
Nate
http://www.thenomadtrip.com/wp-content/uploads/2013/11/logo-nath21-300x72.png
Nate
2016-03-22 15:32:30
2016-03-22 15:32:30
Finally, A New Post!!