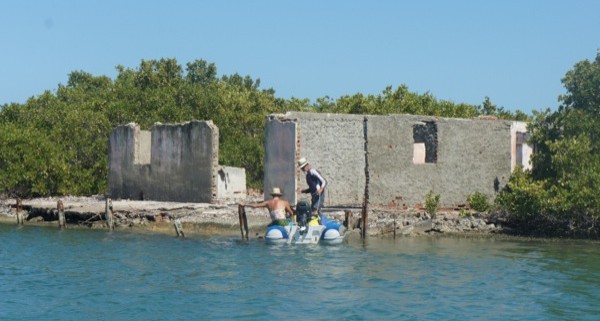 So. We were in a remote anchorage along the Southern Cuban coast – somewhere in the Jardin De La Reyna. NOMAD and Songerie were the only two boats in sight. NOMAD had only a few inches of water under her keels, and we had a ton of chain out – so we were completely secure.
Jardin De La Reyna
As soon as we dropped our anchor Jaco called on the radio and asked if we were diving. I told him that I had too much work to do on the boat – just seeing if I could get a rise out of him. He called my bluff and thirty minutes later Cristelle, Jaco, and I were heading to the outside of the reef.
On the way we talked about the fish species in the area, sizes, depths. The prevailing wisdom was that there were many a grouper in the area – primarily Yellowfin and Black Grouper. I asked about Nassau Grouper (my favorite), but Jaco hadn't seen many in the area last time 'round.
The goal, today, was nice a nice grouper or two and a nice Mutton Snapper. Hogfish were on the menu, but we weren't diving in prime Hogfish area. Cubera Snapper were common in the area as well – but we didn't have enough info on Ciguatera, so today's hunting was like a trip to the grocery store (and not like a big-game safari); we were shooting tasty fish that were good table-size.
And, as I dove into the water I told Jaco what the old Mexican fisherman told me a lifetime ago in Mexico: the first one in shoots twice. I saw him flash a smile as I rolled of the dinghy.
As soon as I was in the water I saw a good Mutton Snapper and before Jaco had his wetsuit on we had a Mutton Snapper boated. I reloaded and was off again. Within five minutes I'd found and cornered a nice Yellowfin Grouper. The fish was deep in a hole and I was having trouble getting my speargun angled correctly – but I did it. Of course – shooting the fish is only half of the battle, the other half is getting them out of the hole. Twenty minutes a few curses later, the Yellowfin Grouper was boated as well.
With the immediate dinner-need satisfied it was time to explore and begin being selective. I did what all experienced spearfishermen do – I headed to deeper water and looked for The Wall. Really, just any structure in deeper water that would hold fish. After a bit of kicking, I found it.
On the way to The Wall I saw several Nassau Grouper, but – as hard as it was – I refrained from boating them thinking they may be rare here. I was wrong. At The Wall I saw several more and eventually decided that I really wanted a Nassau Grouper sandwhich. And so, when I was sitting on the bottom and the fifth Nassau Grouper visited me, I put a shaft into him.
At one point in this dive Jaco was sitting on the bottom, and I was watching from the surface as a school of 100+ pound Tarpon came and visited him. In that moment Jaco had two large Dog Snapper, two Yellowfin Grouper, and a Hogfish all within range. But a real spearfisherman isn't made by the fish he takes, but by the fish he leaves. Selective shooting and selective hunting is important. He let them all pass, looking for the right fish. And I was proud to be diving with him.
And I was so f***ing happy to, finally, be diving in untouched waters. The amount of marine life here was exceptional. We earned this.
For a couple of days we stayed and dove and hunted and ate and drank together in this paradise. But then a Northern threatened and so we took the dinghy and scouted the area looking for a way into a protected lagoon, to sit out the high winds that were coming.
We checked depths and holding and entrances to the lagoon, and then – holding our breath and gritting our teeth – we eased through the shallow water with Songerie and NOMAD – into the lagoon where we dropped anchor in complete protection. Once there, Jaco and Cristelle brought out their smoker and we commandeered a decrepit fishing shack to smoke our fish, smoke fine cigars, and drink Cuba's excellent rum.
And with full freezers, full stomachs and fuzzy heads – we planned our next move down the Cuban coastline.
http://www.thenomadtrip.com/wp-content/uploads/2016/04/DSC08671.jpg
399
600
Nate
http://www.thenomadtrip.com/wp-content/uploads/2013/11/logo-nath21-300x72.png
Nate
2016-04-29 12:14:02
2016-04-29 12:24:19
Jardin De La Reyna