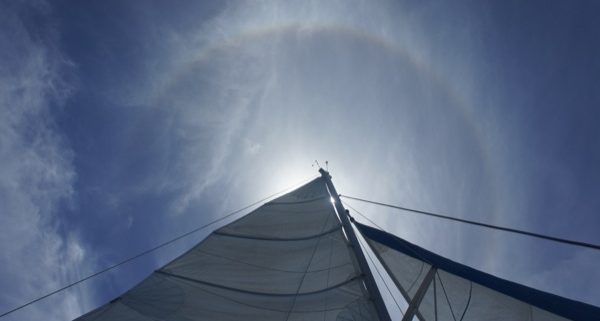 It was nearing the end of our adventures in Jardin De La Reyna. We needed to get back to Cienfuegos to renew visas. We were anxious to visit Havana, and we'd been remote for long enough that people were likely starting to worry about us.
So much had already happened. There was the time that we traded liquor for shrimp in Cayo Cuervo, and since we traded with only one of the shrimpers – they received a fair amount of alcohol. And they proceeded to drink it immediately – we heard them laughing and shouting and playing music all day, deciding the shrimp could wait.
There was the time we had sundowners on the beach and then had rum and played chess onboard NOMAD until late at night. Then we watched a movie and went to sleep. And then when the wind picked up the French boat started dragging down onto Songerie and they called us on the VHF in a panic and I took the dingy and pushed the boats apart and the crisis was averted.
There was meeting new friends onboard Roxy and Kantala.   There were many days of diving and putting off boatwork. There were so many great fish. So many great dinners and so many cold beers and aged rums.
And after all of that, we were back where we started in Jardin De La Reyna. And this was our favorite spot, and we were with our favorite people. And just a short dinghy ride away was our favorite reef with our favorite dropoff where we could find any fish we desired.
Tons of stuff was broken. Emails and messages and phone calls and banking was piling up. We were out of most vegetables and our stock of cheese was dangerously low and our wine non-existent. Diesel and gasoline and propane were nearing panic-levels. We were many miles from what you guys call "civilization." We were much further from our families and friends and our "homes." But we were so happy.
Our Favorite Spot
Even mediocre fisherman, those weekenders and amateurs and wanna-bees, don't give away their fishing spots. At least they don't keep doing it. Fool me once. So I can't tell you where we were. Forgive me. But we were in a good spot.
We had mere inches of water under our keels. We were tucked in close to the island. The water was clear. The VHF was quiet, until our friends had something worthwhile to say. Our fridges and freezers were full of tasty fish. Maybe we could have spent more time on boat-maintenance, but I'm convinced that's not something I'll wish I did more of on my deathbed. So, the real concern here was bagging a nice Black Grouper and a nice Cubera Snapper.
Preferably something that resembled a dinosaur and tested us thoroughly.
The Dives
We have, at this point, began placing a relatively high value on chum (or burley). We handle this one of two ways: we drag small lures in our trolling spread or we shoot a fish for chum early. Our preferred target is barracuda – but in a pinch you can use anything. Then we drift and scrape and cut and see what happens.
I can't say that we've actually boated anything as a direct result of this method, but it moves the fish around and gets them out and about. It's a worthwhile tactic. So when we our spot on the deep ledge (it was only Jaco and I), we came with chum. We dropped the dinghy anchor in 30M of water and then we pulled out all the gear and then we began diving and searching. We found the spot. Then the real diving began.
The honest truth is that I'm not a great freediver. Most of the guys that are serious, that I dive with, are deeper divers. Jaco is one of the deepest spearfisherman I've ever dove with. It's a remarkable luxury to dive with someone that is better than you, one I appreciate very much. And so he did some of the gruntwork scouting and diving and hanging on the bottom – while I did the chumming and kept an eye on the mid-water.
We shot a nice Yellowtail Snapper for sushi, then we moved back to Cubera hunting. They did come into the chum, but they were wary. Grouper were everywhere. But this wasn't a tablefare mission. So they all swam away unscathed, but with full bellies.
And then the current pushed us over a new spot. This was the Deeeep Ledge. It went from 25M to infinity. Huge caves. Massive overhangs. If one kept diving a spot like this, they would encounter massive fish. But it was deep and if you shoot a fish at that depth and it runs over the Deeeep Ledge – you're effed. Either you: a) likely drown trying to pull it up or b) you lose your gear and your fish. Outcomes not worth pursuing.
This is where we saw our first giant Black Grouper. Jaco and I, in a rare move, both dove at the same time – but at different ends of the chum slick. And I saw a huge Black Grouper approach Jaco. He held his fire. At the surface we talked – it was too big.
And today was Cubera Snapper day.
So we kept diving. It was exhausting.
Spearfishing Cubera Snapper
And, at the end of our diving, as the sun was setting; it happened.
I saw a school of fish passing beneath us. They were deep, just in front of the Deeeep Ledge. They were so deep and so big and there were so many – I was sure they were Tarpon. But they weren't. Jaco dove. When he surfaced he looked at me and said: "Nate, there are 26 Cubera Snapper – that I could count – that are over 15 kilos."
He had a shot, but had waited for me to take a dive on them. It takes a mature spearfisherman to do that. and a friend. So I dove. And at 25M I hit the bottom. I waited. And as the contractions came, so did the Cubera.
The school was largest I've ever seen. They split as they approached me. Some came almost in range, then moved off. Others, smaller, came within range. I waited. The contractions were getting stronger, but Jaco was above and we had one shot at a monster. So I tried to push down the adrenaline.
Then, finally, came the right fish at the right distance presenting the right shot. I fired, but they were moving so quickly – rather than hitting him with a spine-shot (which is lights-out) the shot went further back. Before I even realized I'd hit the fish, he was running over the Deeep Ledge – which is to say he was leaving my reality, with my gear.
In a moment of pure luck, I managed to grab the floatline as it sped down and past me. It was at this point the disagreement between this fish and I hit its pinnacle.
You see – he really wanted to disappear into the deep and then into a cave. I really wanted him to come up to the surface with me so I could eat him and share him with my friends. The disagreement was fundamental and not-so-easily resolved.
The good news is that Jaco was watching me from the surface, so if I did blackout – I had a very high likelihood of surviving it. The bad news was the fish was almost my size and was certainly a stronger swimmer. That became clear very quickly. And so, in an environment which I cannot breathe, we played tug of war. Him down, me up.
After what seemed like an eternity (but was only seconds), I realized I couldn't gain ground (get to the surface) without giving him something. The best I could do was to hold him out of the hole/off the ledge and get a breath, then fight him to the surface.
The progress was slow and exhausting and the contractions were powerful – but I could see that Jaco knew what was happening and he moved to assist, if needed.
I broke the surface. I breathed. Jaco asked: "Big?" I had no breath, but could just get out the word. "Yes."
The fish kicked my ass all the way to the surface. Then at the surface he kicked my ass some more for good measure. Then he met a humane end and we struggled to get his mass into the dinghy.
I couldn't have been more happy, at that moment, if I'd been declared King of the World. The rest of the night we spent running around and showing off the fish to our friends. Then it was time for rum and fine cigars.
PS – in the pic below, check out those canines…
There are two issues with shooting a fish this size: a) ciguatera b) making use of this much meat. Problem a is solved by someone being a tester (not a cool job, but if you shoot a fish this size – I think it's your responsibility). The tester tries a small amount of the fish one night. If they get sick, it's cig. If not, they try a little more the second night. If they get sick, it's cig. If not, the fish is declared safe for human consumption. This one was, thankfully, safe for human consumption.
We solved issue b (making use of this much meat) by a) giving it to friends, b) freezing a portion of it c) smoking a portion of it.
Which meant that we had a very good excuse to pull the beach gear back out and have another fish-smoking, rum and sangria-drinking, cigar-smoking, beach party. And it was glorious.
http://www.thenomadtrip.com/wp-content/uploads/2016/05/DSC08830.jpg
399
600
Nate
http://www.thenomadtrip.com/wp-content/uploads/2013/11/logo-nath21-300x72.png
Nate
2016-05-03 16:36:16
2016-05-03 16:36:16
Spearfishing Cubera Snapper