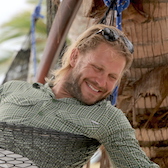 Hey there, glad you found me! I'm Nate and this is The Nomad Trip, pull up a chair.  I'm planning a sailing circumnavigation and this is where I write about sailing, freediving, spearfishing, and travel. 

I'm Nate Niehuus, and this is The Nomad Trip.  I'm stoked you're here.  I built this site to share my experiences as I plan for and then leave for the sailing circumnavigation:  The Nomad Trip.  My goals are to escape the rat race and live a simple, sustainable life on the ocean.  Along the way, I plan to visit the most beautiful and remote spots on the planet and share the experience through this site.  Freediving, traveling, and spearfishing are my passions.  If you want to know more about me, or The Nomad Trip, check my About page by clicking here. And I can give you 7 reasons to stay in touch here.
I write a little about sailing, a little about spearfishing, and a little about freediving.  Through The Nomad Trip I hope to be able to share some of the places I go, the people I meet, the landscapes I see, the cruising lifestyle – and the underwater life that I find along the way.  This is a work of passion – so bear with me and I'll update as often as possible.  I can honestly say that the learning curve is the steepest I've ever encountered.
I hope you stay in touch as I work to piece this trip together.  It definitely won't be boring.  It definitely will be challenging.  I'm always on the lookout for crew, specifically if you're a freediver/spearfisherman, a cook, or a mechanic.  Sailing chops are obviously a plus too.  If you happen to be involved with a brand that you think would be interested in sponsoring me, again shoot me an email.
Below you'll find my latest blog posts, which vary in subject.  Take a look-see and let me know what you think in the comments.
Cheers, and if you like what you've read, share it!
-Nate
I'm back.  It's been awhile, yeah? I know. Why the delay?  Because I was doing some land traveling, some writing, some visiting people, some of this and some of that.  Most importantly, I wasn't on the boat and when that happens I don't like to broadcast my whereabouts – on more than one occasion I've […]
http://www.thenomadtrip.com/wp-content/uploads/2013/11/logo-nath21-300x72.png
0
0
Nate
http://www.thenomadtrip.com/wp-content/uploads/2013/11/logo-nath21-300x72.png
Nate
2017-03-04 11:00:08
2017-03-04 11:00:08
So, what's new? Chartering in San Blas